32nd Forum Bauinformatik
The IIB looks back on a successful 32nd Forum Bauinformatik
2021/09/15 by Luisa Kuhn, André Hoffmannn, Michael Disser
The Institute of Numerical Methods and Informatics in Civil Engineering at Darmstadt University of Technology is pleased to report a successful digital 32nd Forum Bauinformatik on September 09 and 10, 2021.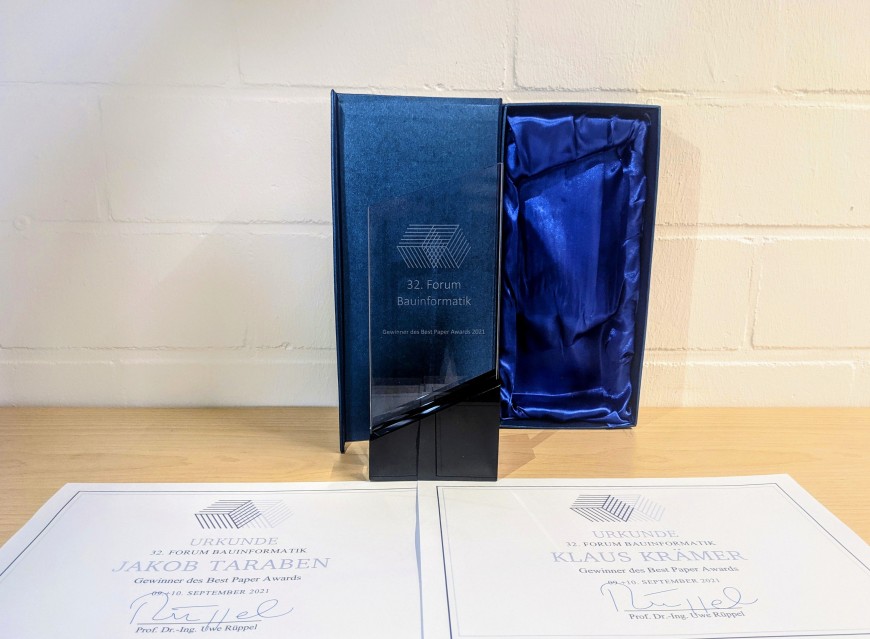 With over 40 papers and presentations and over 70 participants, a lively and informative exchange between young researchers in construction informatics from all over Germany took place last week. The presentations were divided over two days in two parallel blocks into the following categories:

Simulation and Modeling
Building Information Modeling
Data Acquisition & Preparation
Data Modeling & Linked Data
Organization and Management
Design Support
Machine Learning and Artificial Intelligence
Structural Health Monitoring
In addition to the informative presentations, two workshops from Autodesk (Forge and Generative Design) enriched the Forum.
The Best Paper Award this year went to the authors Jakob Taraben and Klaus Krämer of Bauhaus University Weimar for their paper "Automatisierte Generierung von Stadtmodellen aus UAS-Befliegungen für die energetische Bewertung von Quartieren".
As an evening event, a digital pub quiz was held, where four groups competed against each other and answered questions from four categories. Of course, the winning team "Baustelle" did not go away empty-handed, but won the prize of the evening (voucher, "Absolvente" multitool). Despite the digital setting, it was a fun and social evening, which was enjoyed by all participants. They were invited to stay and exchange ideas even after the official evening program.
We are also happy to announce the timely publication of the conference proceedings via TUPrints: Proceedings of the 32nd Forum Bauinformatik
We would like to express our sincere thanks to all the participants who enriched the conference with their contributions and to all the presenters and all those involved in the organization.
Your organizers of the Forum Bauinformatik 2021