BauSIM 2018 in Karlsruhe
7th German-Austrian IBPSA-Conference
2018/10/19
This year's BauSIM took place from 26th to 28th September in Karlsruhe. The departments of Building Lifecycle Management as well as Bauphysik & Technischer Ausbau of the Karlsruhe Institute of Technology (KIT) were organizers of the German-Austrian conference of the "International Building Performance Simulation Association" (IBPSA), which entered its 7th round. The topics focused on BIM-based planning tools and integration approaches, integrated building and energy concepts, building monitoring and operational optimization, numerical methods in connection with optimization and implementation, validation and quality assurance of (product) data, user behavior in buildings as well as modeling and simulation in the life cycle of buildings in general.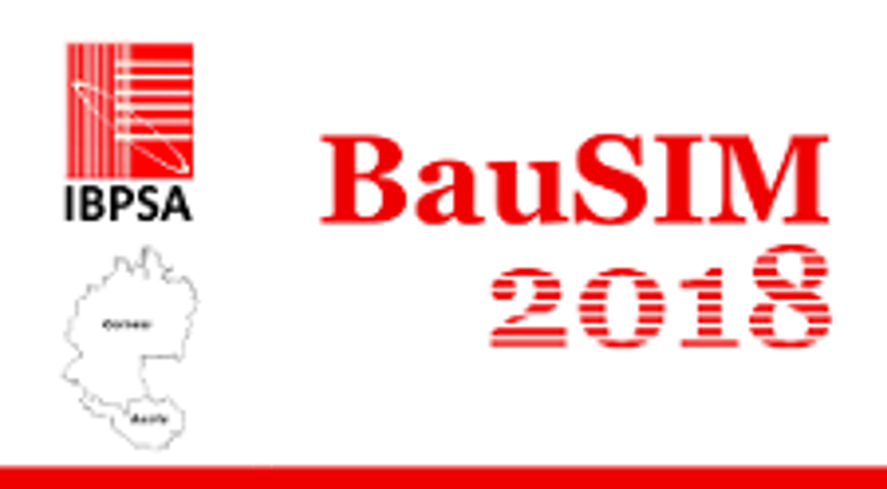 The institute was involved in the conference with two contributions: Christian Eller presented the paper "Flexible filtering of heterogeneous data using the example of the design and simulation of building integrated photovoltaics", which was written in cooperation with the Fraunhofer Institute for Solar Energy Systems (ISE) as part of the SolConPro project. Timo Bittner presented on the topic "BIM supported development of interactive, immersive VR scenarios using the example of firefighting". In this context, the (partially) automated integration of BIM models, both on a geometric and semantic level, into a VR application was investigated. This information can be used to quickly and easily create an interactive, immersive, and at the same time adaptive scenario that is utilized to experience and practice firefighting in virtual reality. By using the BIM models of existing or future buildings, a direct reference to the "real" world is established.
In addition to the interesting contributions and workshops, the conference dinner at the winery Dr. Steiner, which is located in the middle of the vineyards above the famous wine village of Siebeldingen in the Southern Palatinate, was also part of the programme.
The successful conference was rounded off for the institute after receiving the Scientific Paper Award of BauSIM 2018 and a nomination for publication in the "Bauphysik"-Journal for the contribution "BIM supported development of interactive, immersive VR scenarios using the example of firefighting" by Timo Bittner, Christian Eller, Marcus Dombois and Prof. Uwe Rüppel.
Additional information
[1] Conference website (KIT)