Innovative technologies at the German Institute for Virtual Reality
The IIB at the DIVR award ceremony
2019/05/24
With the project "VR4Teach" (see also: "VR in lectures", news article from February 28th, 2019 ) and the results of Pascal Mosler's bachelor thesis on virtual fire fighting with modern digital methods, the Institute of Numerical Methods and Informatics in Civil Engineering was represented at the DIVR award during the VR Science & Business Day of the Places Festival on March 23rd, 2019 in the Science Park Gelsenkirchen.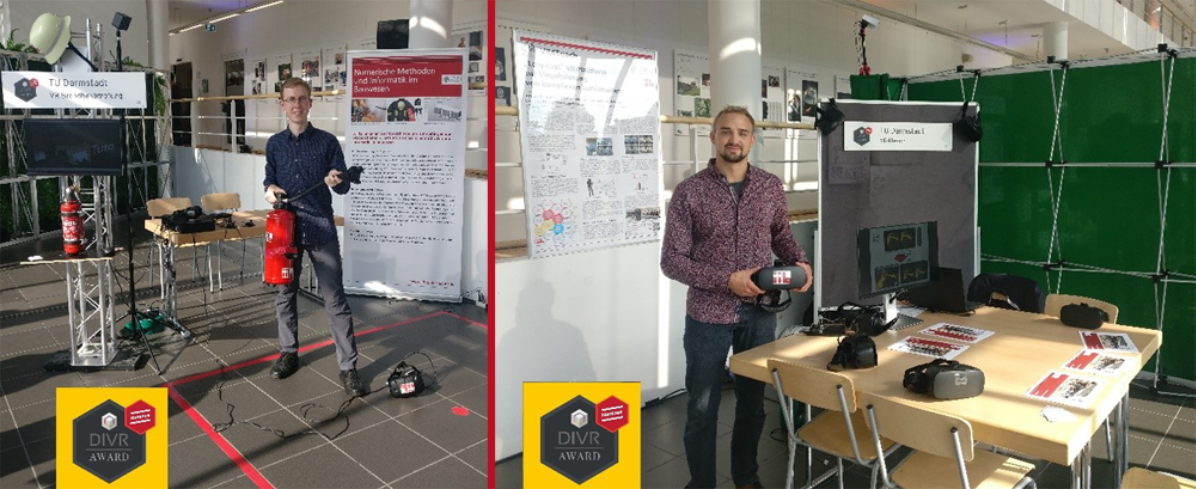 The institute was able to participate in this year's DIVR Award in Gelsenkirchen with two projects. Firstly, Pascal Mosler was nominated for his Bachelor's thesis on the development of an innovative fire-fighting scenario with a real fire extinguisher in virtual hazardous situations. Secondly, the "VR4Teach" project, which uses cardboards and innovative software applications to bring complex teaching content such as thermal 3D models and simulations into lectures by connecting students and lecturers via Internet-enabled devices, qualified for this year's award.
50 other applicants and 19 nominees met in the Science Park Gelsenkirchen to exchange ideas with each other, with companies and the public. Interested parties were able to try out the applications and put them to the test until late in the evening as well as discussing various aspects with the nominees. Thus, the IIB was able to show that the developments and technologies are state of the art and at the cutting-edge. We would like to thank all interested parties, the organizers and promoters as well as Förderverein of the institute for the support.
Additional information (german language only):
Event website Places Festival / DIVR award