The IIB at Hobit 2019
Fire fighting in virtual reality
2019/02/01
This year the IIB took part in Hobit 2019 once again with a comprehensive setup at the booth of Department 13 and showed interested students how to train and experience immersive fire fighting in a digital building model using virtual reality.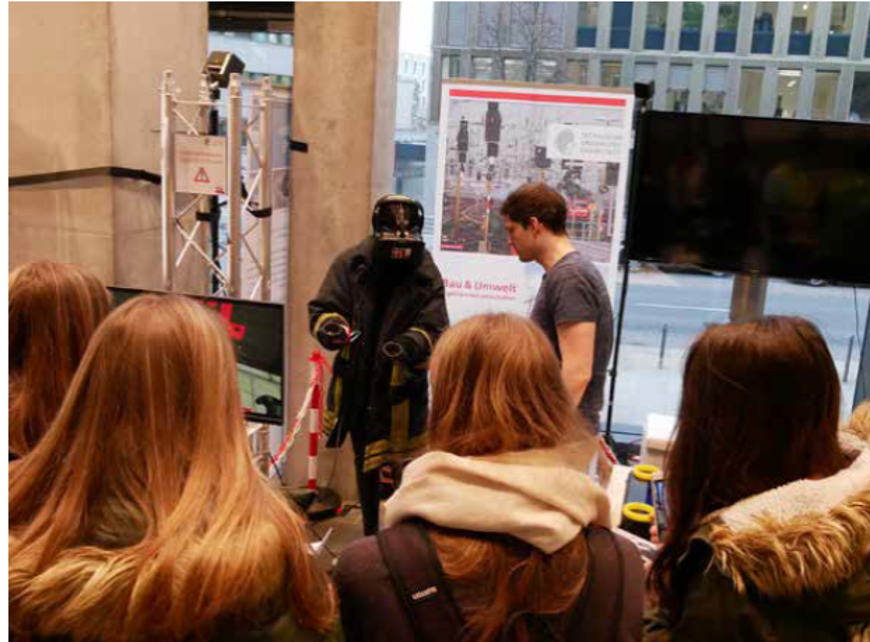 With the help of digital building models stemming from Building Information Modeling, the Institute for Numerical Methods and Computer Science in Civil Engineering has developed fire-fighting scenarios in VR under near-realistic conditions. Visitors to Hobit 2019 were able to discover the possibilities of virtual reality and try out the immersion of these digital methods in conjunction with a HTC Vive and the Institute's own demonstration application. The participants learned how to handle a real fire extinguisher that is connected to the computer by means of modern tracking technologies and thus becomes part of the virtual world. With the appropriate hand movements, knowledge can be imparted and trained in any digital building in a safe environment.
This year, the stand once again provided an opportunity to get to know parts of the digital engineering methods from the field of computer science in civil engineering combined with the engineering sciences and aspects of security research that are part of the Institute's teaching programme.
Additional information: