Rehearsing for emergencies
The IIB as a guest at the disaster control exercise of the Lusatia control centre
2017/10/10
On Saturday, September 30, 2017, a disaster protection exercise took place at the Carl-Thiem Clinic in Cottbus. This was a so-called "mass casualty attack", in which about 450 participants were involved in the rehearsal for the emergency. In the course of the security research carried out at the institute, the IIB was invited to observe the exercise.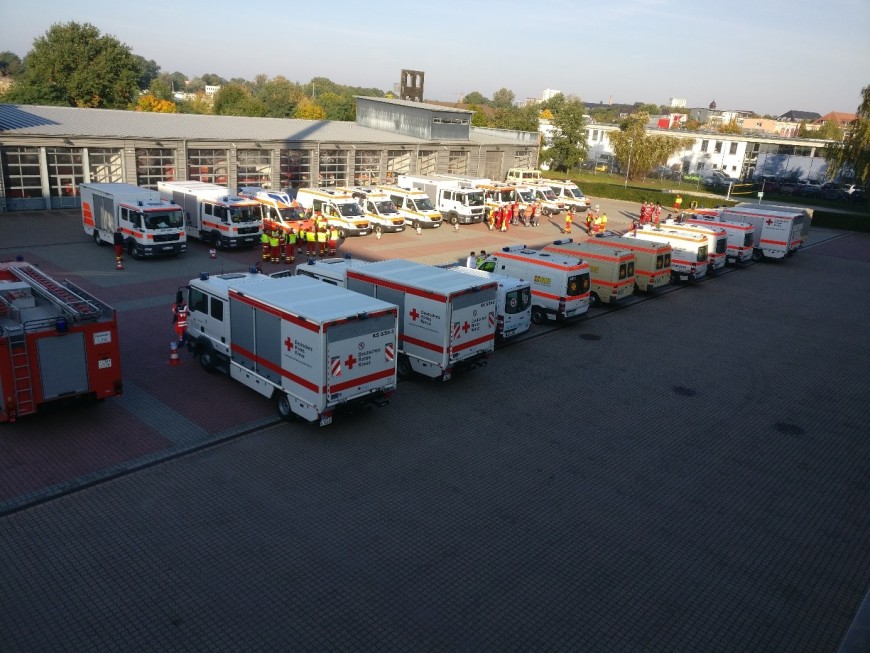 The starting point of the exercise was a police incident at the medical school of the hospital. The 125 "injured", who were professionally dressed up by the Johanniter's realistic accident presentation unit and triaged according to the severity of their injuries, were taken care of by the emergency doctor and paramedics. In addition to the rapid medical response unit (SEE San) of the city of Cottbus, the Medical Task Force (MTF18) and the rescue helicopter Christoph 33 were called in as part of the supra-local aid.
A total of approx. 450 persons from several state and federal associations were involved in the exercise. A treatment station was set up on the helicopter landing field in front of the hospital, just like next to the medical school. The rehearsals included procedures, patient transfers, hierarchies, new techniques and the interaction of the individual associations. After all patients had been cared for, the emergency services dismantled the temporary emergency camp.
The exercise was extensively documented with text, pictures and film material and will be evaluated in the next weeks. The results will also be used in training courses. The IIB would like to thank the control centre in Lusatia and especially its director Mr. Zellmann for the invitation and the exciting and eventful exercise.
Additional information (german):
Video footage from the event by Niederlausitz Aktuell (Youtube)